Airport Luggage Delivery by "AIRPORTELs Suvarnabhumi Airport"
AIRPORTELs will be your luggage secretary, carrying your luggage between Suvarnabhumi Airport (BKK), Don Mueang Airport (DMK), and hotels in Bangkok. There will be a 100,000 baht insurance for damages on all luggage and a 100% guarantee that all luggage will reach its destination. Customers can check the status of their luggage via email, LINE, WeChat, or WhatsApp. In addition, AIRPORTELs also has a storage service at both Suvarnabhumi Airport and Don Mueang Airports. Our current capacity is 2,500 luggage that is under a 24-hour security.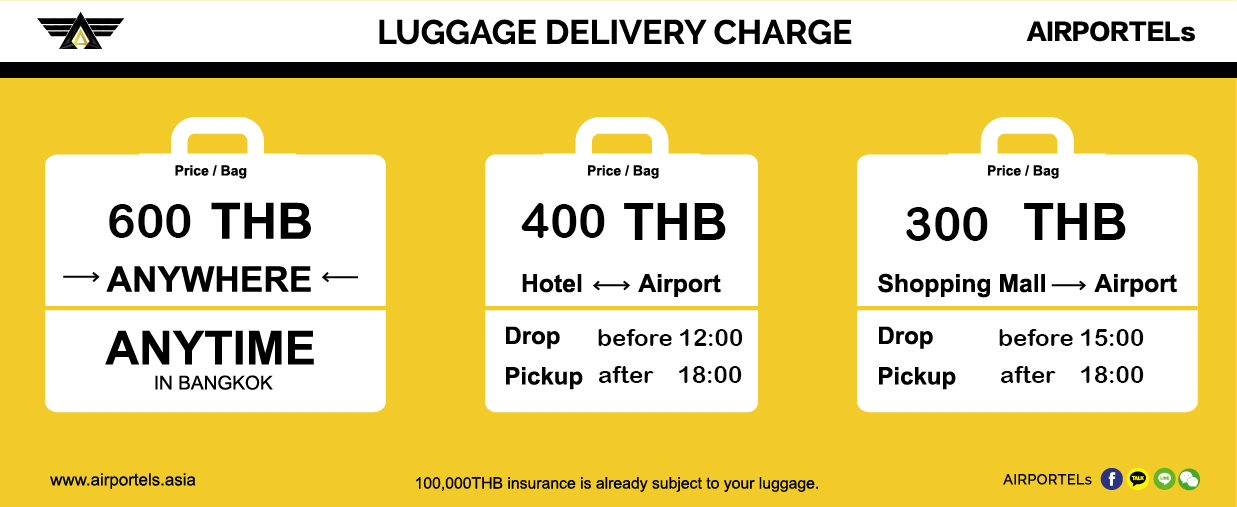 Today, you can manage your time more efficiently by using our AIRPORTELs Luggage Delivery service after your plane touches the runway. You may walk freely to any local attraction, shopping mall, or restaurant without carrying any heavy, bulky luggage. Our service also allows travelers to carry just a laptop for important meetings. Even on the last day of the trip, travelers can deposit the bag at hotel and travel around with hands free. Luggage will be waiting at the destination. All that is required is your basic information and correct address, all of your luggage would be waiting at your desired airport.

Highlights      
Smart time management. You can manage your business and tourism plans efficiently   Easy to use through 'booking online' or preferred portals   100% guarantee that the luggage will arrive safely at the destination   All luggage is insured up to 100,000 THB   Status checks or inquiries around the clock through Line, WeChat, or WhatsApp with regular updates notified by e-mail   Luggage delivery between Suvarnabhumi Airport and hotels, condominiums, or guesthouses in Bangkok and Phuket area   Only 300 Baht for each bag with no limitations on weight, size, and distance!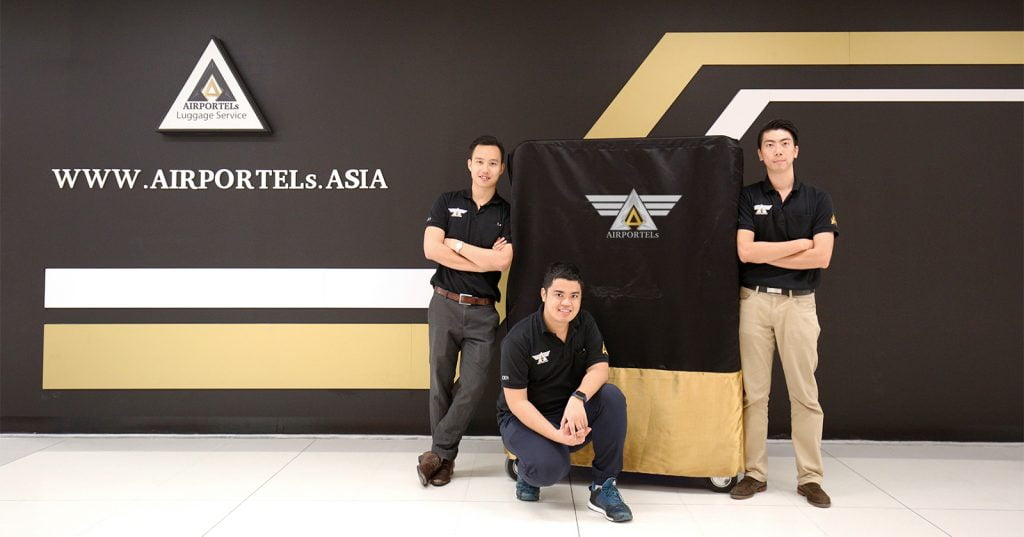 Suvarnabhumi Airport service counter: Our counter is located on B Floor the left of the Airport Rail Link. 
Don Mueang Airport service counter: Our counter is located at 1st Floor, Terminal 2, near to Gate 9.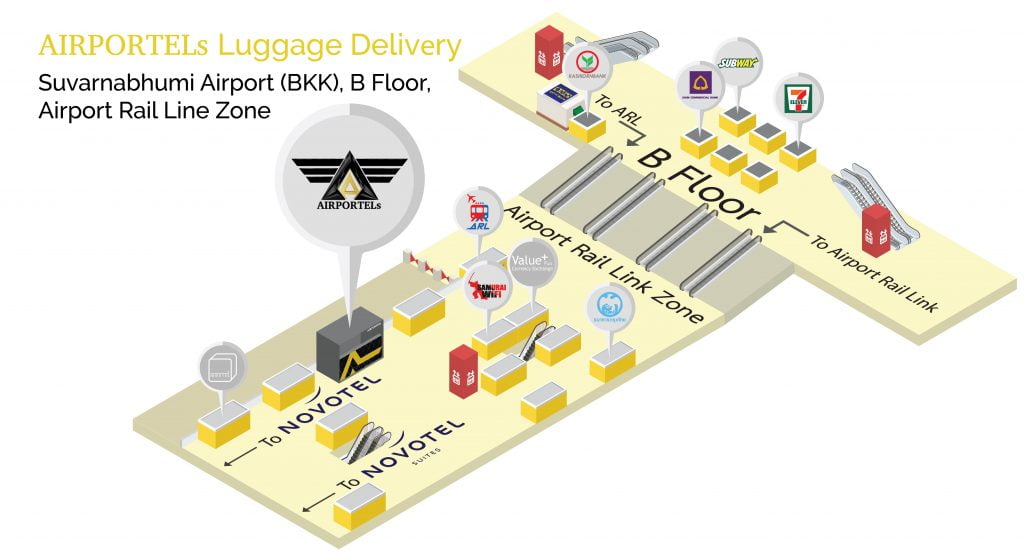 For more detail of AIRPORTELs Luggage service, please contact us at   
 Suvarnabhumi Counter at Basement floor near to Airport Rail Link    
MBK Center Counter 6th floor B zone Phone: +66 6321-666-99
Website: Luggage Delivery Bangkok
E-mail: [email protected]
Line: @AIRPORTELs
WeChat : AIRPORTELsKakao
Talk : AIRPORTELs
Facebook : www.facebook.com/airportels
Read More CLICK
---